I'm moving in!! Oh yes, moved from my friendster blog to here. Started out in friendster cause i just wanna try it out, see if blogging works for me. Well, apparently it does. But i still love reading other ppl's blog though. I still need to get familiar with blogger first. Explore a lil, how to change this and that. May take a while as i'm kinda lazy although i got a lot of time on my hands. I already took long enough to make this first post.
Just found out today that my brother has a blog. 'Teh tarik satu' it's called. What a coincidence as mine is associated with hot-chocolate. Ha. Maybe i should ask my sis to start blogging to. Call it 'baby milk' or something since she had a baby not too long ago. Here's the cute lil' tyke: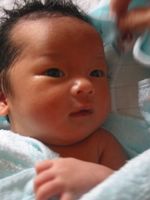 Meet Joshua. Cute eh? This one was taken when he was 3 weeks old. Me bro has more pics on his blog.
Ok, that's it for my first post here. Will blog again later. Toodles~